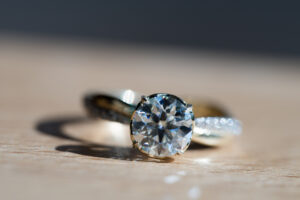 Celebrities influence trends in the bridal jewelry market. This is especially true with regard to celebrity engagement rings. The most recent example of this is Megan Fox and Emily Ratajkowski prompting 'you and me' ring sales. Jennifer Lopez is the latest celeb to start a new trend in the engagement ring market.
Lopez and actor Ben Affleck are engaged. Affleck gave the singer cum actor a stunning ring set with a green diamond that weighs around 8.5 carats and that features white diamonds on both sides. As with earlier celebrity diamond rings, Lopez's piece may not only influence trends but also cause an increase in green gemstone sales.
Mined Green Diamonds Do Not Come Cheap
Customers may seek to imitate the striking color of Lopez's engagement ring. Nevertheless, it is a potentially challenging trend to use in a way that brings good results because the green stones are very rare.
Diamonds with hues of red, green, or blue account for under 1% of every diamond examined by Gemological Institute of America (GIA) laboratories. Most of those diamonds are found in African and South American mines.
Rarity is also an impressive factor. Diamonds can have a natural green color because of nitrogen, nickel, and hydrogen impurities or radiation. However, it is also possible to treat the stones to make them green in laboratories. Mined green diamonds gain rarity the more stunning and intense the hue gets. The word Aurora Green refers to the best-known green diamond.
Green Symbolizes Luck, Harmony, And Hope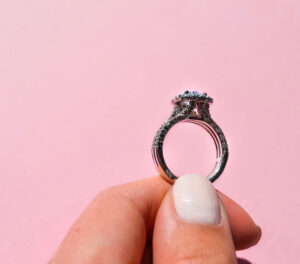 Green has a special form of significance, which makes it the ideal stone to choose for a future bride. Conventionally, the green color symbolizes hope, luck, harmony, and serenity. Those are the sentiments engagement jewelry might echo. Customers choose colored engagement rings rather than more conventional diamond styles. Why? Because the countless variations that come with colored gemstones make the ring more unique and sentimental.
There may be more jewelry pieces set with green stones thanks to the singer's ring. The spring is here, a time with enough sunlight where people embrace color more. Color affects human emotions as well as serves as a form of expression that inspires people.
The Most Stunning Green Engagement Jewelry
Do you feel inspired by the signer's choice? If so, there are several stunning green engagement jewelry pieces up for grabs online. You can also create a bespoke ring when you wish to add your own touch to the piece.