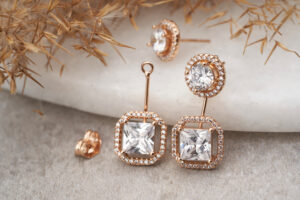 Diamond jewelry can be a fabulous gift for your loved ones. Be it an anniversary or Valentine's Day; jewelry like a pair of beautifully crafted diamond earrings would be a wonderful choice to bring that million-dollar smile to your loved one's face.
Lab grown earrings or studs made with lab grown diamonds are gaining popularity as an elegant and pocket-friendly choice for gifting. A pair of well-crafted diamond studs can be a welcome addition to any woman's jewelry collection, as these can be worn on any occasion, formal or casual.
Diamond studs come in a variety of shapes. They are usually set in 14kt or 18 kt white, yellow or rose gold and platinum. Let us take a look at the popular choices we have in shapes when we buy a diamond earring, especially diamond studs.
Round Four Prong Diamond Stud Earrings
The diamond is studded on a classic four-prong design with either a screw back or a friction post. These are usually set in 14kt or 18kt white gold or yellow gold. These iconic studs are a favorite choice when it comes to classic designs in diamond studs. When compared to natural diamond earrings, these are a value buy, priced at around $800 for one carat and around $2000 for two carats with good color, cut and clarity.
Round Three Prong Diamond Stud Earrings
The three-pong design is a simple yet stunning one with a unique three-prong setting. The diamonds are set in 14kt or 18kt yellow or white gold. Just like the four-prong diamond stud earrings, this one also has either a screw back or a friction post and stopper at the back. The three-pong setting is a trendy design chosen by many youngsters as their casual daily wear studs. The pricing is almost the same as that of the four-prong setting.
Oval And Pear Shaped Diamond Stud Earrings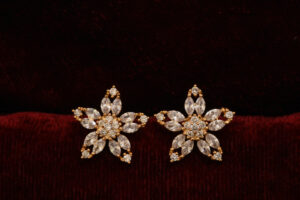 Oval and pear shaped stones are a popular choice among people who look for designs that are a bit different from the classic round shaped diamond studs. These are usually mounted on 18kt gold, either white or yellow, and a screw back post for making the stud more secure. The oval shaped diamonds are mounted on a four-prong setting while the pear-shaped stone is mounted on a three-prong setting to keep the design aesthetically pleasing. As with the earlier designs, the buyers do have a choice in color and clarity.
The above list is not exhaustive. There are a number of other brilliant designs and shapes of studs to choose from a variety of lab grown diamond studs which are a cost-effective gifting option.